Benchmarks For Business Leaders That Signal It's Time to Partner With a PEO
March 23, 2022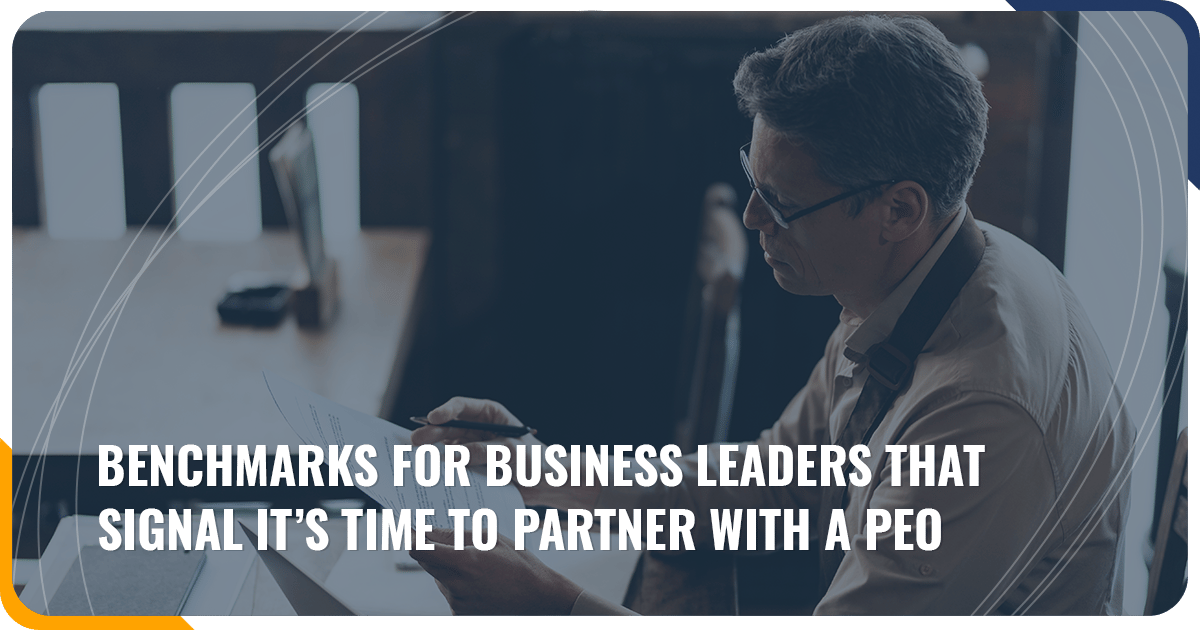 TABLE OF CONTENTS
benchmarks for business leaders that signal it's time to partner with a peo
As a savvy business owner, you know that operations are dynamic. It's crucial to continually evaluate your circumstances. How many employees do you need? Should you reconfigure your products or services? Is your team making the best use of its time? How you facilitate your core administrative business operations, potentially through a professional employer organization (PEO), is another key area that deserves ongoing assessment.
The Importance of Making Calculated Decisions in Business
Nimble business owners understand that strategic decision-making is paramount when it comes to the success or failure of any business. Well-calculated decisions maximize your short-term results and minimize long-term risks. This means more than just making the right calls. It means making the right calls at the right time, such as deciding when it's time to seek assistance with administrative functions by hiring a PEO. Taking on these tasks yourself could actually impede your growth. In fact, small businesses that use PEOs grow 7 to 9 percent faster than those that do not.
Understanding The Role of Partnering With a PEO
A PEO is an expert, strategic partner for businesses in need of core administrative support. PEOs take certain responsibilities off your plate, such as managing workers' compensation coverage and payroll, mitigating risk and keeping your business compliant, and designing customized benefits packages. Partnering with a PEO gives you peace of mind that these tasks are being performed thoroughly and correctly. Not only that, PEOs can make your business more profitable. Businesses that work with PEOs realize a 27 percent return on investment based on cost savings alone! That translates to a $272 net cost savings benefit for every $1000 you spend.
So how do you know when it's time to partner with a PEO? Read on for some benchmarks to look for!
It Might Be Time to Partner With a PEO When…
You're Losing Talent to Competitors Due to Your Benefits
More than ever, amidst the recent mass job exodus that has been dubbed the "Great Resignation," there is stiff competition to recruit and retain talented workers. One of the ways you can demonstrate that you value your employees is with comprehensive benefits packages. When you offer excellent benefits, they are less likely to jump ship.
If they are being lured away by employers with better benefits, a PEO can develop customized benefits packages and show your employees that you appreciate their service.
You've Had Multiple Compliance Violations
Staying compliant can be challenging, especially when it comes to workers' compensation coverage and payroll. The workers' compensation claims process can be complex and convoluted, making it easy to make mistakes.
If you've had multiple compliance violations related to workers' compensation, or payroll, you may be too busy to properly tackle these responsibilities on your own. Violations may include not confirming proper workers' compensation for a new employee, or not submitting certified payroll documentation for a government-funded project.
Penalties vary by state, but in some states, failure to have proper workers' compensation coverage can result in fines up to $100,000 and months, or even years, in jail. If you fail to submit payroll documentation for a government-funded project, you may end up owing fines, not getting paid for your work, or even losing a contract and being prohibited from bidding on other government contracts. Partnering with a PEO that is knowledgeable and experienced with workers' compensation coverage, and payroll can ensure you stay compliant and minimize risk to your business.
Payroll and Taxes Are Becoming More Complicated
Is your business expanding? That's great news! When your business is growing, you need to hire more employees. The result? A huge to-do list related to payroll and compensation. And come tax time, it gets even more complicated.
When you become overwhelmed and can't keep up with payroll functions, it is time to engage a PEO that can help minimize these tasks and smooth the way to a lower-stress tax season.
You Don't Have Enough Time To Focus On Your Strategic Priorities
As a business owner, you face a constant list of competing priorities. But ultimately, your primary task is to ensure your business is flourishing.
To do that, most of your energy should go toward providing excellent customer service, prospecting for new clients, and hiring the right team members. If administrative tasks are causing you to miss opportunities for new projects or prospecting for clients, it's time to partner with a PEO.
You Can No Longer Afford NOT to Partner With a PEO
Because you know your business better than anyone, it may seem faster and easier to get things done on your own. The problem is, these activities aren't the best use of your time and take your energy away from making the consequential decisions that are crucial to the future of your business. Here's one way to look at it: track how many hours you spend on administrative tasks and compare that to your salary or hourly rate. That's eye-opening, isn't it? The more time you are spending on tasks such as payroll, the more important it is to find alternatives that offer more expertise at a sustainable cost.
How a Relationship With a PEO Like SPLI Works
SouthEast Personnel Leasing Inc. has 35 years of experience supporting business leaders like you. When you partner with us, we take on time-consuming administrative tasks so you can focus on the crucial responsibilities that ensure your business is thriving. You are the utmost expert on your business. Therefore, when working with SPLI, you maintain full control of your operations, performing tasks such as:
Hiring, training, and developing your team
Directing daily activities of your employees
Setting wages for your team
Here's what we do to help your business run more smoothly:
Have you met benchmarks that indicate it's time to partner with a PEO? Request a quote and find out how we can help!
Interested in learning why coupling workers' comp coverage with payroll under the guidance of one trusted partner will free you up to focus on the core elements of your business? Get the infographic!