An Owner's Guide to Payroll Processing for Government Funded Projects
November 10, 2021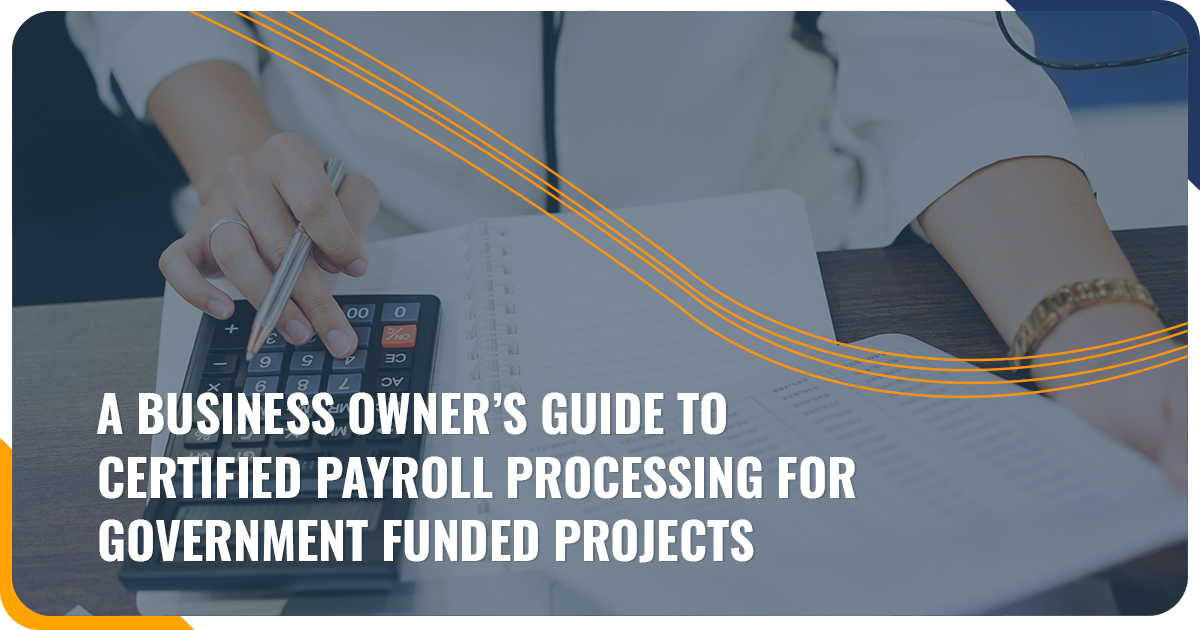 TABLE OF CONTENTS
The United States Senate recently passed a long-awaited bipartisan infrastructure bill to modernize some of the country's deteriorating services, facilities, and structures. The projects include rebuilding roads, bridges, highways, ports, and public transportation. Also included are measures to improve drinking water, such as removing lead pipes, and infrastructure updates that will allow for more electric vehicles on the road. Updating infrastructure will both stimulate the economy and help current and future generations.
So why does this matter to you? Read on for more information about certified payroll reports for government-funded projects and how a knowledgeable Professional Employer Organization can help.
What is certified payroll processing?
A certified payroll report is detailed accounting that all contractors or subcontractors that work on federally funded projects must complete and submit to the federal government. The requirements include a detailed weekly report with each employee's legal name, address, job classification, wages, working hours, and any benefits that the company withholds on their behalf.
Why is certified payroll processing so important?
The purpose of certified payroll reporting is so the federal government can ensure that companies are compliant with the Davis-Bacon Act, also known as the prevailing wage law. The 1931 law requires that any company that works on a government construction contract more than $2,000 pay their laborers the local prevailing wage and fringe benefits for their work and complete a certified payroll report.
The government passed the Davis-Bacon Act to protect workers from low pay because of a company's low bid to win public works contracts. Studies show that when local wages are decreased, companies focus on cheap labor rather than on providing the best workforce. As a result, workers aren't as skilled and their motivation declines. Submitting payroll reports ensures companies are complying with the prevailing wage law.
How do I know if my company needs certified payroll processing?
If your business works on any federally funded project worth more than $2,000 as a contractor or subcontractor, you must submit weekly certified payroll reports. Among the projects covered are construction or repairs (including painting or decorating) of public buildings, schools, highways, structures on military bases, roads, and bridges. The types of contractors included are plumbers, carpenters, masons, electricians, roofers, and more.
How does certified payroll processing connect to workers' compensation coverage?
Participating in a U.S. government contract can yield huge benefits for your business, but it also requires strict compliance with both the prevailing wage law and workers' compensation insurance regulations. Workers' compensation insurance, which provides wage replacement and benefits to any employee injured in the workplace, is necessary to take care of your team and required for all government-funded projects.
What are the consequences of not having certified payroll processing?
If your company is required to submit certified payroll documentation weekly and you fail to do so, you could end up paying hefty penalties or not getting paid at all for the work your company performs. Your contract could even be terminated or you may not be allowed to bid on any other government contract for three years. Consider the following: from 2009 to 2016, the Department of Labor Wage and Hours Divisions collected more than $1.2 billion in back wages from contractors.
So how can you ensure your company is compliant? That's where a knowledgeable Professional Employer Organization (PEO) comes in.
What's the process for obtaining certified payroll processing?
If this all seems overwhelming, SPLI can help. We exist to serve busy company owners like you who need simple solutions to complex payroll problems. We provide certified payroll reporting to our clients at no extra cost (request a quote to get started). Our professional payroll technicians will ask you for additional information such as the job name, project number, the rates and fringe benefits for the different types of employees on the project, and the type of reports the government is requesting.
SPLI is the ideal partner for your certified payroll processing needs
As a trusted PEO, SPLI has extensive knowledge of and experience with the prevailing wage law. We have tackled projects ranging from stadium improvements, military bases, and even repair and rebuilding of the port of Miami after a hurricane. We are an ideal partner for all of your payroll processing needs.
SPLI offers this amenity to all of its clients, free of charge.
Our designated payroll technicians can facilitate all of your payroll needs, including certified payroll processing, so you can use your time and energy to grow your business.
In addition to generating reports every week, we will keep your reports for years, providing you peace of mind that your records will be available if an auditor requests them.
Our team has extensive experience with payroll reporting for multiple states and federally funded projects, and training on many different online certified payroll reporting systems, allowing us to create customized solutions to fulfill your company's needs.
Our team specializes in delivering the payroll processing and workers' compensation coverage you need. Ready to see pricing and get all your questions answered? Request a quote today.
Interested in seeing the 5 benefits to bundling workers' compensation coverage and payroll ADMINISTRATION?
Get the infographic and understand the value of coupling these two functions together.