Five Mistakes To Avoid With Workers' Compensation Claims
September 15, 2021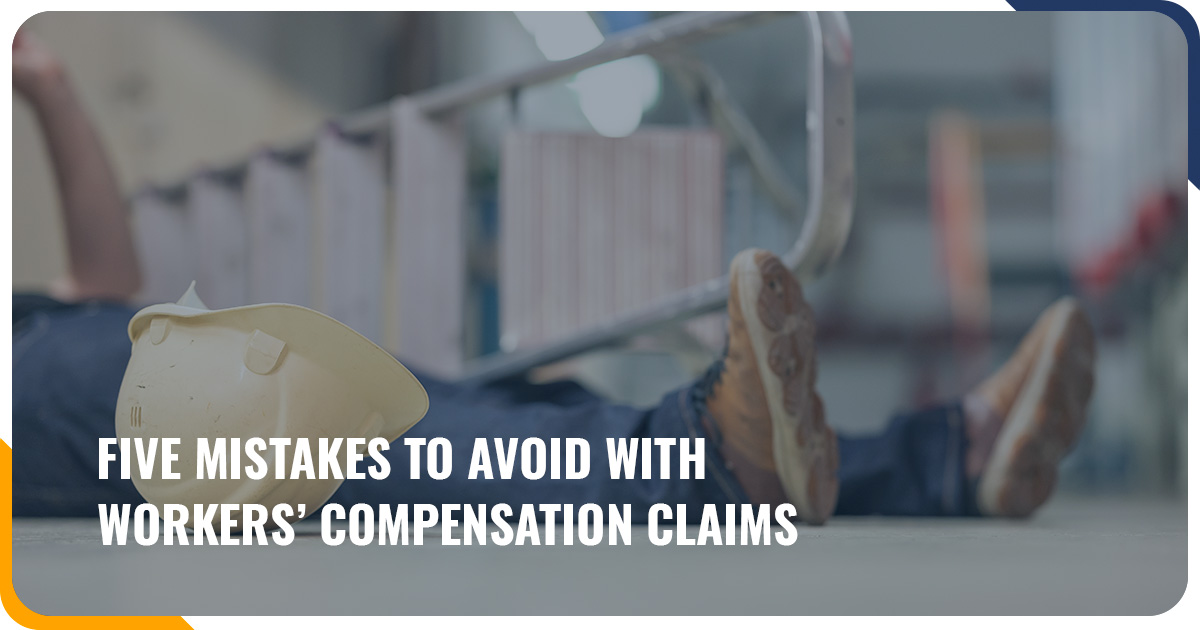 TABLE OF CONTENTS
As a business owner, you likely wear many hats. Some days, it might seem as though you have an endless list of tasks, all of which require your attention. Of all your responsibilities, one of the most crucial is taking care of your team, especially if an incident occurs in your workplace that requires you to file a workers' compensation claim on an employee's behalf.
It's easy for business owners to make mistakes when it comes to filing workers' compensation claims
Unfortunately, the claims process can feel a bit complex. Far too many times, we see employers make a small mistake that ends up having a lasting and disastrous effect on their business.
That's why SouthEast Personnel Leasing (SPLI) operates as a trusted PEO partner who has a vested interest in your success. Our mission is to help you mitigate risk by handling workers' compensation claims so you can get back to taking care of your employees, customers, and growing your business.
Let's unpack the five most common mistakes business owners make when filing workers' compensation claims and how to eliminate them.
The 5 most common mistakes we see with workers' compensation claims
Mistake #1: Not communicating concern and empathy for the employee
Following a workplace incident, your first concern should be protecting and taking care of your team. Yes, paperwork and processes are important, but they should not come before the health, safety, and wellbeing of your staff. Unfortunately, we see employers become embroiled in expensive litigation that could have been avoided if they had started by expressing empathy for their injured or ill employee. Priority number one is demonstrating and reminding them of how much you care.
The support you provide and the care you show could mean the difference between your employee trusting you to help them through the process or hiring an attorney to represent them. The common adage is true that people may not remember what you said, but they will always remember how you made them feel. Reassure them and be calculated in your responses. Trust takes effort to build, but a moment to be lost.
Mistake #2: Terminating the employee
In the event of an accident in the workplace, feelings and tensions can run high. As your company's leader, you likely have multiple demands for your attention. You are concerned with not falling behind, meeting deadlines, reallocating priorities and more because the health of the business falls on your shoulders.
In such emotionally-charged situations, the worst thing to do is act rashly. By immediately terminating an employee, even if the accident was their fault, you are not acting in the best interest of your team or business. It opens you up to expensive litigation, is illegal in many cases, and does not promote the right kind of culture that makes the rest of your team feel valued and respected.
Mistake #3: Not following drug-testing procedures
Drug testing following on-the-job accidents can help you determine whether drugs were a factor in a workplace mishap. But if your drug testing procedure is not legally sound, or you don't follow the proper protocol, you may be jeopardizing the claims process.
If you're working with a PEO, ensure that your partner organization follows state or federal guidelines. Treat your employees with respect by allowing them as much privacy as possible, conduct only the necessary tests, and provide your entire team with thorough, easy-to-understand information about your guidelines.
To alleviate any headaches with the claims process, it is best to require your employees to undergo drug testing as soon as possible after they are stable and have undergone the initial medical treatment since different drugs have different windows of detection. If an employee refuses to submit to post-accident drug testing, document their refusal on company letterhead in the presence of a manager or supervisor.
Mistake #4: Not confirming proper coverage
Each state has specific requirements for workers' compensation coverage and is something that you should be deeply familiar with so that you remain in good standing and receive adequate coverage. Failing to ensure a new employee is covered could render your company liable for an employee's medical expenses, lost wages, and additional costs.
No matter who your coverage provider is, it's imperative that no employee begins working until all paperwork is submitted and coverage has been confirmed. An accident can happen anytime, even minutes after a new employee joins your team, and if coverage is not in place you are at risk of being held liable.
Mistake #5: Not providing transitional duties
Whenever possible, it is beneficial to provide an injured employee with light, transitional duties that they can safely perform while walking through the claims process. An approach that allows the employee to return to work in some capacity can help reduce stress, avoid boredom, maintain their connection to your team, compliment their recovery, and keep them engaged.
And for you as the employer, a transitional work plan helps lower the overall costs of claims because you can pay that employee for any work they can perform in the transitional period until they can return to their full on-the-job responsibilities.
Finding a partner for your workers' compensation coverage
As a business owner, you can ensure you are showing the proper care and concern for your employees and protecting your business by alleviating these common workers' compensation claim mistakes.
Here at SPLI, our team specializes in delivering the workers' compensation coverage and the related services you need because every business deserves to have a partner who has a vested interest in their success.
Interested in seeing the 5 benefits to bundling workers' compensation coverage and payroll ADMINISTRATION?
Get the infographic and understand the value of coupling these two functions together.