The 10 Best Business Growth Tips from PEO Experts: Part 1
October 20, 2021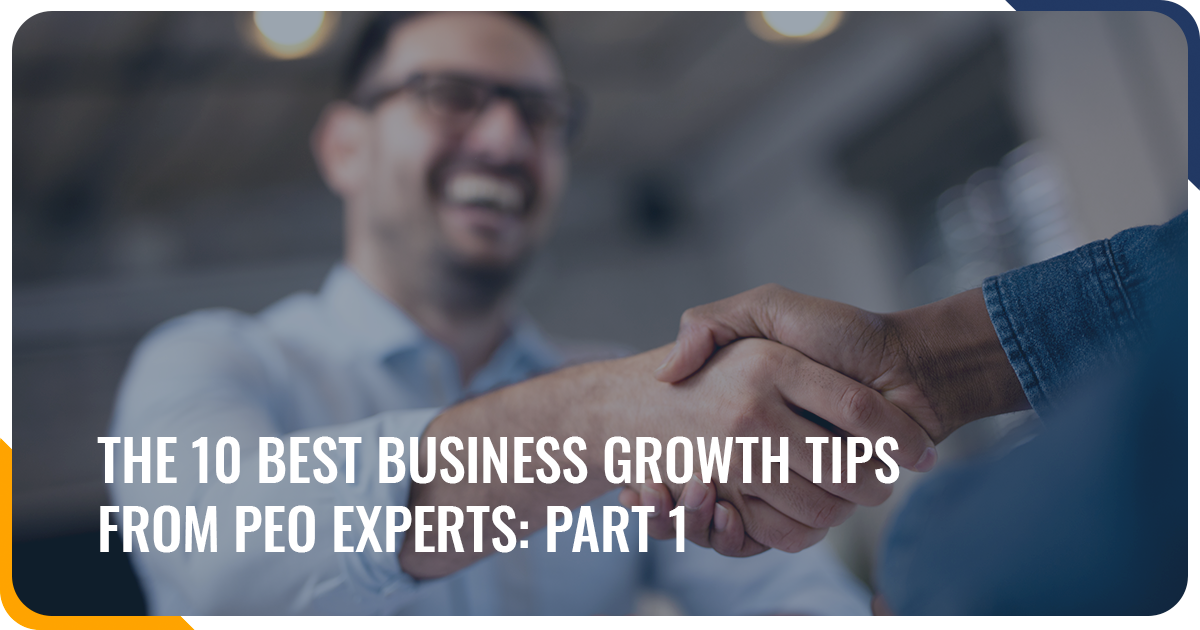 TABLE OF CONTENTS
Perseverance and a laser focus on long-term goals are crucial when it comes to running a business. There will always be competing interests vying for your attention, such as personnel concerns, customer satisfaction, cash flow, and staying up to date and compliant on regulations. Ultimately, these tasks are all in support of your most important job; ensuring your company grows and thrives.
To help you run your business smoothly, we spoke with five of our PEO experts, who've helped tons of businesses manage everything from worker's compensation, payroll and employee benefits, to safety and risk management. Read on for their favorite tips when it comes to growing your company.
Tip #1: Concentrate on your strengths
Rich Schrader, 17 Years at SPLI
"Find out what you're good at," advised Rich Schrader, SPLI's director of sales. "Focus on that and build a team around you to do the rest."
As a business owner, you want to ensure every staff member understands their purpose. In addition to helping your organization function well, alignment helps maximize your company's talent so it can better serve your customers.
Tip #2: Use your time to grow relationships and enhance business opportunities
Shawn Harrell, 16 Years at SPLI
Business owners often find themselves spending so much time working in their business,
"Time is everyone's most valuable commodity," says Shawn Harrell, SPLI's sales manager. "Use openings in your busy schedule to grow relationships and enhance business opportunities."
It's no secret that running a business is all about people. Strengthening connections with your customers is one of the best ways to build trust and loyalty so they will return.
In addition to customers, work to build robust relationships with staff, colleagues, or anyone else who can increase your business prospects.
Tip #3: Keep your cool when things don't go as planned
Eddie Pickett, 14 Years at SPLI
"Lord, give me patience and give it to me now," advised Eddie Pickett, SPLI Sales Manager. "It will without a doubt be tested."
No matter the scale – there are times when things don't go as planned. Maybe an important contract doesn't pan out, a collaboration falls through, or a permit is delayed.
Inevitably, any number of tasks may take longer than planned. This is where patience comes in. When you lose your composure and patience, you can wind up making decisions too quickly, which could be to your detriment.
As the saying goes, "All good things come to those who wait." Most importantly, if you don't practice patience, you'll lose sight of your main objective, which is growing your business.
Tip #4: Reward safety compliance
James Broerman, 16 Years at SPLI
"Consider implementing a merit program based on best safe work practices," says James Broerman, an SPLI Senior Account Executive. "Reward employees with gift cards, paid leave, or pay raises."
As a business owner, one of your most important tasks is taking care of your employees. Sadly, workplace illnesses or tragedies can happen.
Providing rewards to the employees who are most compliant with safety standards gives an incentive for others to follow suit. It also shows your employees that you appreciate them, which increases retention of your best and brightest.
Tip #5: Communicate with your customers
Ann Watkins, 31 Years at SPLI
It might sound obvious but communicating with your customers is one of the best ways to grow your business. To strengthen client relationships, SPLI Senior Account Executive Ann Watkins encourages business owners to "listen actively, resolve issues quickly, and provide regular updates."
Active listening allows you to truly understand your customers' needs. To get a true grasp of what your client is communicating, ask questions, seek clarification, and reflect on what was said.
You know how it feels when you have a less than stellar experience with a company. You're likely to get even more annoyed if a call back from customer service takes days.
Responding to problems quickly helps soothe emotions. A speedy resolution makes your customer more likely to overlook small glitches.
Looking for more great tips to help grow your business? Read the second blog in our two-part series: The 10 Best Business Growth Tips from PEO Experts: Part 2.
SPLI - The Partner You Need To Grow Now And In The Future
SouthEast Personnel Leasing has helped thousands of business owners by lifting the burden of staying compliant with workers' compensation coverage and payroll services. At SPLI, we take the pressure off you by:
Handling administrative functions, including payroll and employee benefits
Helping to mitigate risk by providing workers' compensation services and safety and risk management
Most importantly, SPLI allows you to focus your skills and time on your most important tasks so you can grow your business
Interested in seeing the 5 benefits to bundling workers' compensation coverage and payroll ADMINISTRATION?
Get the infographic and understand the value of bundling both together.