The 10 Best Business Growth Tips from PEO Experts: Part 2
October 27, 2021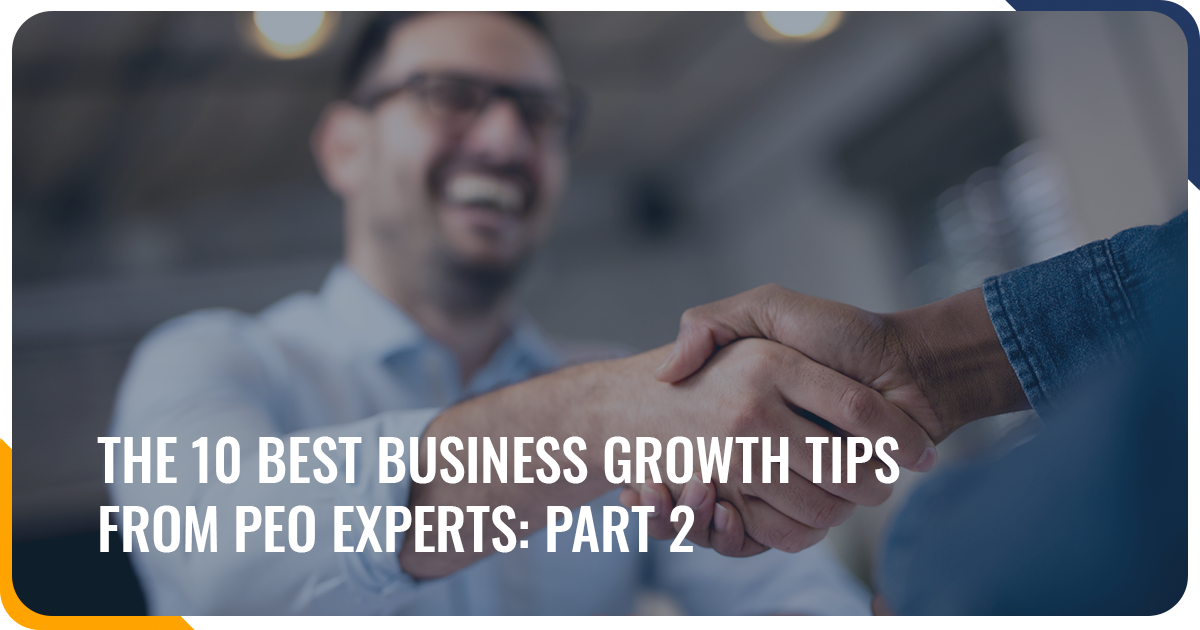 TABLE OF CONTENTS
Grit. Running a company is an incredibly ambitious and risky undertaking. Determination, optimism, and creativity will help you ride out the challenging periods.
When all the tasks and demands required zap your energy, your passion for what you do will fuel you through. And the payoff is huge - the success and growth you've always dreamed of.
As PEO experts, we understand the overwhelming responsibilities businesses must address to keep things running, like worker's compensation coverage and payroll. Last week, our team shared their favorite tips for business growth. Here, they've shared more of their knowledge, garnered from helping thousands of businesses flourish. Don't forget to read the first blog in our two-part series: The 10 Best Business Growth Tips from PEO Experts: Part 1.
Tip #6: Stay compliant to avoid expensive fines
Dianne Dunphy, 30 Years at SPLI
"Most small businesses can benefit from our services so they don't make mistakes from not knowing the wage and hour laws or the workers' compensation law," advises Dianne Dunphy, an SPLI Senior Account Executive.
Failing to be compliant can cause you tremendous stress and tens of thousands of dollars in fines. Dianne recalls a client who came to SPLI after receiving a $22,000 fine in back wages for overtime that he didn't know he owed. Another client sought help from SPLI after he learned at an end-of-year audit that he owed $20,000 for his workers' compensation premium because he hadn't made periodic payments throughout the year.
Staying compliant can be tough, but it's crucial when it comes to business growth. Partnering with a trusted PEO gives you the support you need with payroll and workers' compensation, especially if you own a high-risk business.
Tip #7: Take care of your team
Doug Drakulich, 17 Years at SPLI
"Whatever your service or product, it is all about your team," says SPLI Senior Account Executive Doug Drakulich. "Take care of the team and show love and they will give it back to your clients."
Even the most well-run business can't survive an unhappy team. Your employees power your business and want to feel valued.
Taking care of them includes recognizing their successes, rewarding exceptional performance, and treating them fairly and with compassion if an accident or illness happens in the workplace.
If employees are engaged, they'll have a stake in your business's success and provide better customer service. Happy customers become repeat customers who contribute to your company's growth.
Tip #8: Exude positive energy
Dom Motta Sr., 21 Years at SPLI
"Your energy introduces you before you even speak," says Dom Motta, Sr. Account Executive.
People may forget what you say and do, but they'll remember how you made them feel. Projecting positive energy makes the people around you feel comfortable and at ease.
So how do you project good energy?
For starters, think more positively and practice gratitude about what you have and to the people around you. Improve your mood by taking care of yourself with exercise and proper nutrition. Other people can see if you're tired and stressed by the way you carry yourself.
Successful business owners are likable and attract others to them. When deciding who to do business with, wouldn't you choose the person who is more engaging and pleasant?
Tip #9: Find your niche
Chris Elliot, 16 Years at SPLI
"Develop a specific niche that no other business is fulfilling or that no one else is willing to do," advises SPLI Senior Account Executive Chris Elliot ."SouthEast will cover you. Some of my best clients have VERY specific descriptions of operations."
What's the best way to capitalize on your unique skills and knowledge? Develop a niche.
Focusing on a niche allows you to establish yourself as an expert and stand out in a crowded marketplace.
Maybe no one else has ever started a business for your specific market because they didn't see a need and you did. Or maybe others deemed it too high-risk.
Regardless of your niche, a trusted PEO can help you manage risk by ensuring you have a safe work environment and comprehensive coverage so you can create a sustainable, profitable business.
Tip #10: Leverage technology to stay organized
Lenin Chamorro, 4 Years at SPLI
"Organization is essential for business success," says SPLI Account Executive Lenin Chamorro. "Be sure to leverage technology and modern systems to stay organized and get the most efficiency out of your time and efforts."
A place for everything and everything in its place! It's hard to complete tasks if you don't know which tasks need to be completed.
Disorganization leads to missed duties and lost paperwork, and causes you to have to hunt for crucial information that you should have at your fingertips. Technology can help you build to-do lists, delegate, communicate quickly, and simplify repetitive functions.
When it comes to payroll, personnel, and workers compensation, you can leave it to the experts at a knowledgeable PEO who have the latest technology to complete these duties more efficiently, unburdening you so you can focus on growing your business.
SPLI - Taking Over the Administrative Tasks So That You Can Focus on Growth
As the leader of a company, you are passionate about what you do! But when you're overloaded with administrative tasks, you can become stressed and unable to focus on what's most important - growing your business!
When you partner with SouthEast Personnel Leasing, we can take the pressure off you by taking on the administrative work so you can:
Serve more customers
Mitigate liability
Get peace of mind
Eliminate stress
Interested in seeing the 5 benefits to bundling workers' compensation coverage and payroll ADMINISTRATION?
Get the infographic and understand the value of bundling both together.