How Much Does It Cost to Get Workers' Compensation Coverage?
May 25, 2022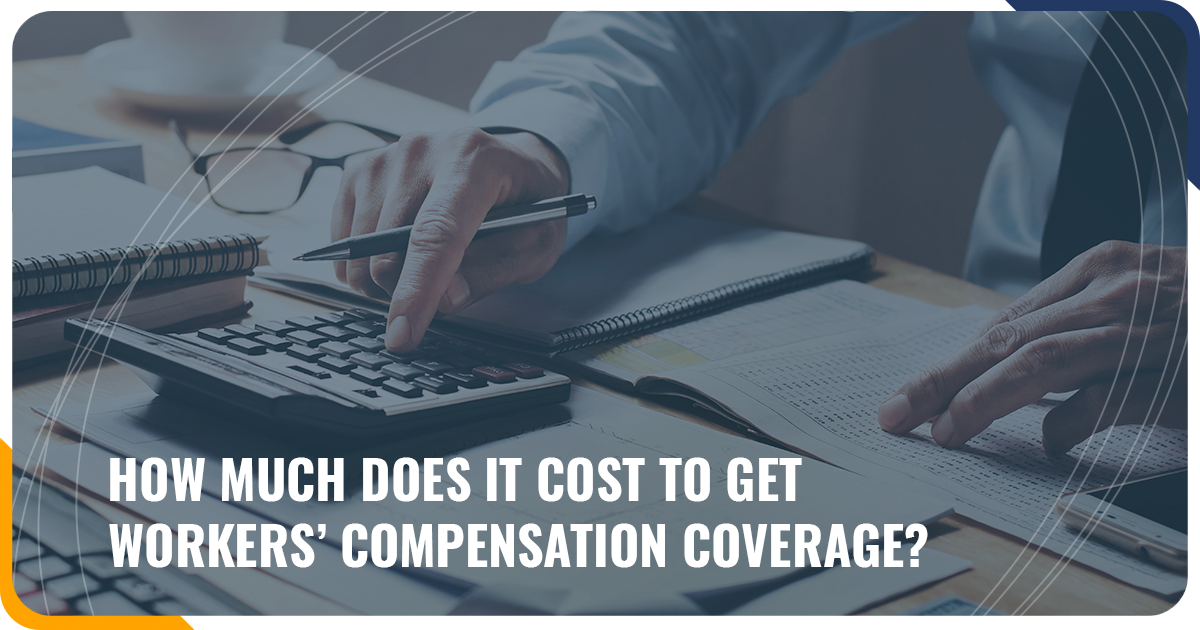 TABLE OF CONTENT
How Much Does It Cost to Get Workers' Compensation Coverage?
As an employer, one of your most important roles is taking care of your team members. That includes everything from providing a safe work environment, benefits, ongoing training, and showing respect for their lives outside of work. Your employees are the backbone of your business, and as such, they need to know you have their back no matter what happens. When someone becomes ill or has an accident while on the job, it's the perfect time to reinforce those values.
That's where workers' compensation coverage comes in.
What Is Worker's Compensation Coverage?
Workers' compensation coverage provides benefits to employees who get injured or sick from a work-related cause so your business is not exposed to unnecessary risk. Workers' compensation insurance covers medical treatment, ongoing care such as physical therapy, lost wages, disability benefits, and funeral costs if an employee dies from a work-related cause.
In the event of an accident in the workplace, workers' compensation will prevent you, as the business owner, from being liable for an employee's medical expenses, lost wages, or the cost of lawsuits. Most importantly, workers' compensation ensures you protect your valued team members.
You may be concerned about how much workers' compensation coverage will cost your business. Still, the reality is that not having workers' compensation coverage could be much more expensive for your company in the long run.
In addition, most states require workers' compensation coverage. That means if you don't have it, you are breaking the law. So exactly how much does it cost to get workers' compensation coverage? Let's explore several variables.
Breaking Down Pricing For Workers' Compensation Coverage
Workers' compensation rates are based on how much each employee is paid and their type of work. However, there are ways to reduce your expenses, such as partnering with a professional employer organization (PEO). Read on to understand the factors that go into your workers' compensation coverage costs and how you can reduce your expenses.
#1: EMR Rate
EMRs, or experience modification ratings, are used to price workers' compensation premiums. Insurance companies use EMRs to calculate your future risk by evaluating how much injuries have cost your business in the past. If your company has previous workplace accidents, you likely have a higher EMR. The average EMR is 1.0. The lower your EMR, the less expensive your premium will be.
#2: Payroll
The first step in calculating your workers' compensation costs is to add up payroll for each covered employee. Payroll for each employee includes wages, bonuses, overtime, vacation, sick pay, social security, tax contributions, and commissions.
Each state has laws for which employees need to have workers' compensation insurance. For example, in some states, business owners aren't required to have coverage, while others have more stringent guidelines. If you're unsure which of your employees need it, consult this official resource.
#3 Industry Classification Codes
Each industry has a classification code that coincides with a specific workers' compensation rate. For example, industries that are more likely to result in accidents, such as construction, will have higher rates than lower-risk jobs, such as bookkeeping. Some states have their own workers' compensation class codes, while others use those established by the National Council on Compensation Insurance, an independent organization analyzing workers' compensation data.
#4 Calculating Your Premium
Once you've established your total payroll and your workers' compensation rate, you can estimate your premiums by multiplying the two. For example, if you have a total of $50,000 in payroll and your rate is 11.41%, your estimated workers' compensation premiums would be $5,705.
#5 How To Reduce Your Workers' Compensation Coverage Rates
One of the most important things a business owner can do is ensure its claims adjuster is following best practices to care for your employee while also mitigating impact to your business and bottom line. It's also a good idea to have a light duty return to work program that encourages employees to return to work as soon as their injuries allow. The sooner a worker is back earning a paycheck the lower the cost of the claim.
To prevent future claims, implement safety training and do a thorough assessment of the hazards that could cause injuries at your company. By maintaining a safe workplace, you can reduce on-the-job injuries, which in turn makes your claims history better, lowering your EMR and ultimately your costs.
Partner with SouthEast Personnel Leasing to Better Control Your Workers' Compensation Costs
SouthEast Personnel Leasing (SPLI) has over 36 years of experience serving business leaders like you by providing comprehensive solutions for core administrative functions. Our services include:
By becoming a client of SPLI you are leveraging a claims management team that has a vested interest and will care for your employees quickly and effectively while mitigating cost. SPLI's internal claims department monitors all vendors and providers on your behalf to successfully resolve claims and includes light-duty return-to-work programs. Also, by pairing workers' compensation and payroll administration, you "pay as you go" for workers' compensation each time you run payroll.
Through this method, you only pay for the workers' compensation used. Plus, if you lose employees, you won't have to wait until a traditional audit to recover those costs! At SPLI, we are committed to looking out for your best interest at every step of the journey.
Want to learn more about how we can help reduce your workers' compensation costs? Request a quote today!
Interested in seeing the 5 benefits to bundling workers' compensation coverage and payroll administration?
Get our infographic to learn about the five benefits of bundling workers' compensation and payroll, a proven approach to staying covered and compliant.