How Partnering With A PEO Helps You Grow Your Business
February 9, 2022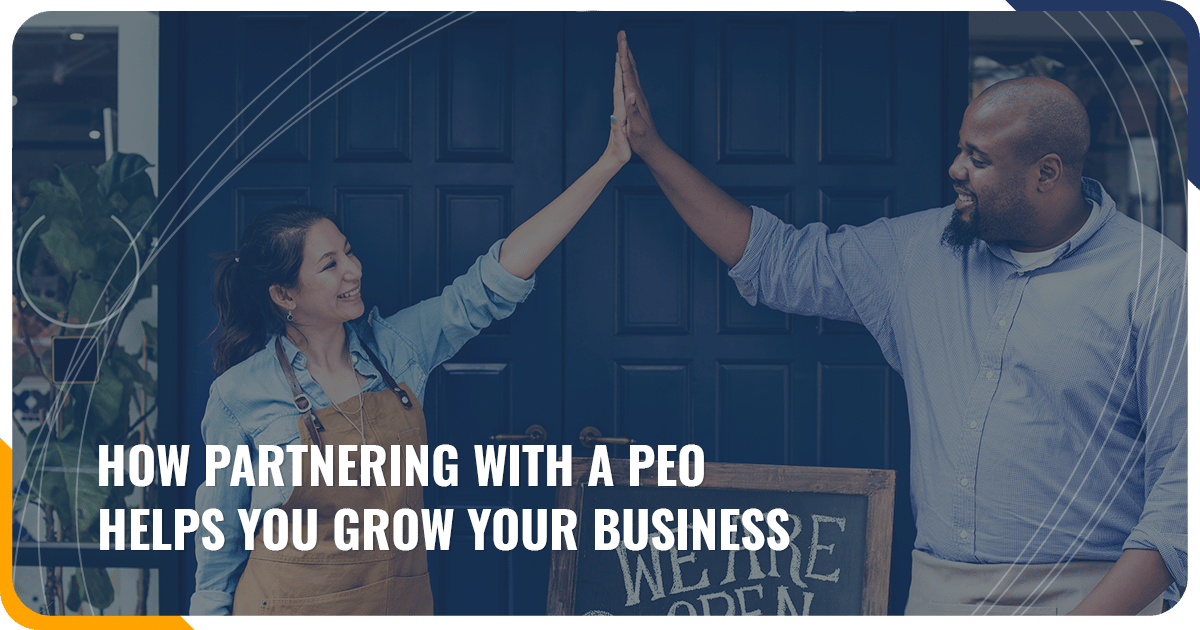 TABLE OF CONTENTS
Creating, maintaining, and growing a successful business is demanding. It requires unwavering commitment and can consume your life 24 hours a day, 7 days a week. So, as you grow, it's natural to consider expanding your pool of expertise. Enter a professional employer organization (PEO).
what is a peo?
A PEO is an expert, strategic partner for businesses needing core administrative support. PEOs take on tasks such as managing workers' compensation coverage and payroll, mitigating risk to keep your business compliant, and designing customized benefits packages. Through these services, PEOs help businesses improve productivity and increase profitability.
who is a peo designed for?
A PEO is an excellent solution for small to mid-sized businesses looking to provide their employees with access to better, more affordable benefits. In the process, administrative functions like payroll, benefits, compliance, and workers' compensation coverage are also streamlined for a reasonable cost. Entrusting these functions to a PEO will allow you to focus on the bottom line, so your business thrives.
Read on to learn five ways partnering with a PEO can help you grow your business.
5 Reasons The Right PEO Partner Helps You Grow Your Business
Reason #1: Partnering with a PEO can save your business money
PEOs allow businesses to bundle services such as payroll and workers' compensation. Paying for these services as a package can decrease cost and increase efficiency.
According to a September 2019 study by the National Association of Professional Employer Organizations (NAPEO), partnering with a PEO affords the average business a 27.2 percent return on investment based on cost savings alone. That's an average savings of $1,775 per employee!
Reason #2: A PEO ensures long-term stability by mitigating risk
Your business needs stability to grow. Mitigating risk is a crucial aspect of that resiliency. A lawsuit from an injured or ill employee can have devastating financial consequences for a company. Partnering with a trusted PEO helps mitigate these risks and stabilize your bottom line so your company continues to grow.
An effective way to obtain workers' compensation coverage is to partner with a skilled PEO to secure the appropriate protection for your business. The right PEO will handle your workers' compensation claims, preventing your company from being vulnerable to any unnecessary risk.
Reason #3: A PEO helps you maintain business continuity, even in a crisis
The COVID-19 pandemic has brought a tremendous negative impact on businesses. Smaller companies were hit especially hard. One of the best ways to ensure your business survives–and even flourishes–in the face of a crisis is by employing a seasoned PEO to facilitate those core administrative functions and keep your operational costs only at a level you need.
A September 2021 study by the NAPEO found that almost three-quarters of all small businesses who are PEO clients had returned to their normal operations (or better) by July 2021, in contrast to only 40 percent of all small businesses.
A PEO can design a solid continuity plan, addressing issues such as processing payroll in the event of a closure, to ensure your company can operate with as little disruption as possible in the event of a crisis.
Reason #4: Working with a PEO helps you attract and retain the most talented workers
The backbone of any business is a strong team. Without one, your company can't function, and it certainly can't grow. But in today's highly competitive employment market, it can be very challenging to attract and retain the best talent. The best way to get a leg up? By offering a strong, flexible benefits package.
Companies without robust benefits packages typically see lower retention rates and lower employee satisfaction. A knowledgeable PEO can work with you to develop a custom, cost-effective benefits program to meet your business's needs.
Reason #5: Most importantly, a PEO allows you more time to focus on what matters most – growing your business
As a business owner, your time is extremely valuable. Every day, you probably have multiple tasks competing for your attention and pulling you in different directions.
Activities that grow your business, such as enhancing business relationships, developing new products and services, and strengthening customer connections, must take precedence. However, you can't ignore core administrative functions such as payroll, benefits, and workers' compensation. A PEO can take those administrative tasks off your hands, freeing up your time to develop your business.
SPLI –The PEO Partner To Help You Grow Your Business
The savviest business owners know when it's time to call in the experts. Partnering with a PEO frees up internal resources, saving you and your team time and money, so you can focus on activities that will ensure your business is resilient and successful.
SouthEast Personnel Leasing (SPLI), a Tampa Bay-based PEO, has over 35 years of experience providing workers' compensation coverage and payroll support to thousands of business leaders.
Our skills and expertise are in four major areas of administration:
Get our infographic to learn about the five benefits of bundling workers' compensation and payroll, a proven approach to staying covered and compliant.
Interested in seeing the 5 benefits to bundling workers' compensation coverage and payroll administration?