How Construction Companies Benefit From PEO Partnerships
April 13, 2022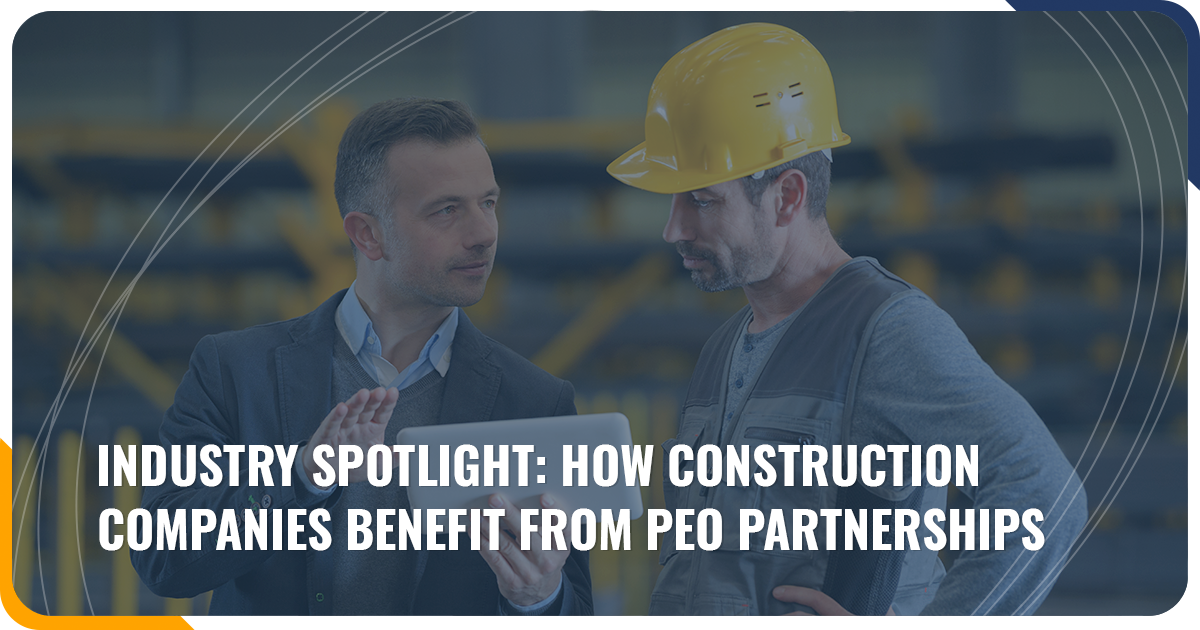 TABLE OF CONTENTS
Construction is a tough business! When you own or operate a construction company – whether it be commercial, residential, industrial, or real estate development – you know that to succeed in this industry, you need a strong back, thick skin, a wealth of skills and knowledge, a quality team, and a resilient spirit.
The Challenges and Opportunities In The Construction Industry
Construction companies represent the largest percent – 20.2% – of failed businesses per year globally. One contributing factor is the struggle or inability to find and retain skilled employees. With the current labor shortage, there are about 500,000 various open construction positions and few laborers to fill them.
The good news? Construction has rebounded since the start of the COVID-19 pandemic. By July 2021, it had recovered and peaked at a record high.
What Is a PEO?
One way to minimize the challenges and maximize the opportunity for your company is by partnering with a PEO that's "got your back."
PEOs provide expert, administrative support for construction companies and other businesses. PEOs take tasks off your plate, such as managing workers' compensation coverage and payroll, mitigating risk to keeping your business compliant, and designing customized benefits packages, all of which can help your construction company flourish. Because of this, PEOs like SPLI, are often an excellent match for emerging and established construction companies.
How PEOs Are Positioned To Serve The Construction Industry
#1: Reduce Your Burden At Tax Time
Running a construction company is a tireless undertaking regardless of the time of year. But when tax deadlines hit, your busy season commences. Tax-related tasks are time-consuming and complicated, making mistakes more likely. In fact, according to a recent study, business owners are spending nearly five hours filing and paying payroll taxes each pay period.
While you still need to partner with a tax professional or file taxes on your own, a skilled PEO can take over the payroll-related federal, state, and local tax filings during tax season and year-round so you can spend more time on business growth activities.
Here at SPLI, for example, our payroll tax services include:
State withholdings
Unemployment FUTA and SUTA
940 and 941 filings
Managing deductions and tax withholdings from employee wages
Paying the correct amount to various tax agencies during the quarterly filing process
Annual W-2 creation distribution and filings
When you partner with a professional employer organization, these elements of your filing take place under the PEOs EIN. For further clarity, the IRS outlines this inside their PEO Agreement.
This effectively removes you, the construction business owner, from a significant amount of filing process.
#2: Benefit From Payroll-Specific Services For Construction Companies
There are several payroll-related services that a trusted PEO partner can provide to instill confidence, eliminate stress, and give you peace of mind that your construction company is covered and compliant.
Three important services to remember are:
Job Costing: Job Costing is a detailed accounting method used to track and assign labor expenses to specific projects. This is an essential practice for construction companies who want to monitor profitability and other important business metrics. In fact, Oracle outlines one use case for construction companies who are looking to execute a robust job costing practice.
Certified Payroll Processing: A certified payroll report is detailed accounting that all contractors or subcontractors that work on federally funded projects must complete and submit to the federal government. The requirements include a detailed weekly report with each employee's legal name, address, job classification, wages, working hours, and any benefits that the company withholds on their behalf. If your construction business works on any federally-funded projects (i.e. public buildings, schools, highways, etc.) worth more than $2,000 as a contractor or subcontractor, you must submit weekly certified payroll reports.
OCIP Reporting: Owner Controlled Insurance Programs, or OCIPs, provide coverage (liability, workers' compensation, etc.) to the general and trade contractors working on their project sites. PEOs, like SPLI, can work in conjunction with construction operations to ensure all the needs of the general contractor are satisfied.
Some of the benefits of an OCIP include:
Broad coverage and uniform limits for contractors of every tier
Claim adjustments by a single insurer
Coverage stability for completed operations through the applicable statute of repose
Immediate policy response to a covered general liability claim without the need to first assign fault among covered contractors if the cause is not immediately clear
The support of rigorous loss control programs, which often include safety incentive programs to provide recognition and sometimes monetary rewards to contractors and their employees for a strong safety performance
Source: Constructionbusinessowner.com's Contractor's Guide to OCIP
While some elements of these services will likely always stay in-house, having a PEO in the fold gives you a partner to share the load of these essential functions. With a PEO, you no longer have to shoulder the entire weight on your own.
#3: Minimize Accidents In a High-Risk Industry
Construction can be a dangerous business for all types of industry workers, from foremen and carpenters to surveyors and engineers. For example, a roofing company might see more injuries from falls, while a masonry business might realize more cuts and head injuries. Other accidents that plague construction workers can occur due to heavy equipment use, falling debris, unsafe stairs, and more.
That is why safety programs for injury prevention are crucial in the construction industry. Not only are you concerned about the safety and wellbeing of your employees, but workplace injuries can also result in added costs for your business or even fines from the Occupational Safety and Health Administration (OSHA) if your operation is not abiding by established safety standards. This year's OSHA penalties are a hefty $14,502 per violation.
A PEO can help conduct ongoing workplace risk evaluations, direct employers to safety materials, and provide assistance with OSHA reporting. Partnering with a PEO allows you to dedicate more time to monitoring and coaching employees through safety best practices.
#4: Utilize Premium Benefits Packages
During what has become known as "the great resignation," it is becoming more challenging than ever to recruit and retain all types of construction employees, whether you need carpenters, foremen, forklift operators, surveyors, engineers, or even inspectors.
One way to attract and keep employees is by offering generous benefits packages. Companies whose employees rated them highly on benefits saw a 54 percent lower attrition rate.
PEOs can help you develop and administer comprehensive benefits packages. By grouping numerous small to medium-sized businesses, PEOs enable you to provide benefits at price points usually available only to larger companies.
#5: Receive Workers' Compensation Coverage Administration
As the owner of any type of company, one of your most crucial responsibilities is taking care of your employees. One way you provide that care is with workers' compensation coverage. This insurance pays benefits to employees who get injured while on the job. In the event of an accident or illness in the workplace, it prevents you from being liable for lost wages, medical expenses, or vulnerable to costly lawsuits.
Additionally, we know how important it is for every business owner to keep their team healthy and whole. In the event that someone gets injured, it's essential to have a highly-trained team that can facilitate claims management. Here at SPLI, we have in-house claims administrators devoted to helping your staff navigate the process smoothly.
On top of it all, a pay-as-you-go approach is a setup PEOs are known for and help you avoid overpaying and eliminate the need for year-end reconciliations.
The reality is construction is high-risk, and you might have difficulty finding an insurance carrier who can give you a reasonable price. Some PEOs can offer competitively-priced solutions for high-risk businesses that often help improve your long-term workers' compensation costs for years to come.
Bottom line: the most effective PEOs set you up for success. They should offer a dedicated account executive and a team of experts to ensure you aren't shouldering the weight of workers' compensation, job costing, OCIP reporting, claims management, compliance, benefits, payroll, and more all on your own.
This isn't mere outsourcing, but a strategic decision to leverage the experience and expertise of an entire team that simplifies your construction-related administrative efforts.
SPLI and Construction Companies – A Perfect Match
SouthEast Personnel Leasing, Inc. (SPLI) is your trusted partner that provides core administrative support to construction companies in four major areas of expertise:
Unlike other PEOs, SPLI has a vested interest in your success. Our in-house claims department monitors all vendors and providers on your behalf to successfully resolve all claims and help you prevent costly mistakes. SPLI gives you a lifeline of expertise through a dedicated team looking out for your best interest at every step of the journey.
For example: SPLI client Stucco Systems, LLC specializes in remodeling, additions, and stucco repairs for Phoenix, AZ. The company prides itself on its high-quality craftsmanship, and for the past nine years, SPLI has taken on the company's administrative functions, relieving the burden from management, so they can focus on delivering the premium results and attentive customer service that their clients expect.
"We couldn't be happier with SPLI's accuracy, service, and competitive pricing. SPLI is consistently prompt, accurate, and professional. When we've had an issue, help has been cheerful and immediate with confident handling and swift resolution," said Marina Schuster of Stucco Systems, LLC. "SPLI relieves us the burden of handling payroll requirements and the stress of remaining compliant with the numerous tax filing deadlines. In addition, we receive the benefit of affordable workers' compensation coverage from knowledgeable specialists."
Ready to learn more about the five benefits of building workers' compensation coverage and payroll support for your construction business?