Retaining and Recruiting Top Talent Amidst The Great Resignation
January 19, 2022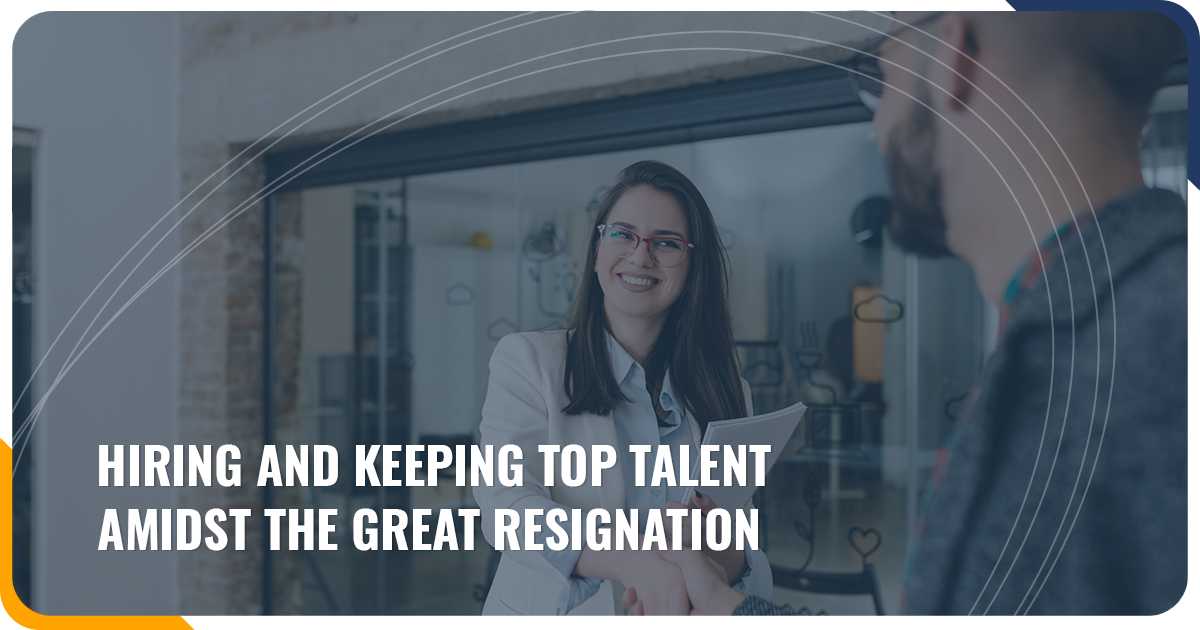 TABLE OF CONTENTS
In September 2021, 4.4 million Americans quit their jobs. The quit rate, measured against total employment, rose to a series high of 3% in September, up from 2.9% in August, which was a 20-year-high!
This mass job exodus, which has been dubbed the "Great Resignation," doesn't appear to be easing up anytime soon. Recent Gallup data reveals that nearly half of American workers are actively searching for new opportunities. This current employment climate makes recruiting and retaining top talent especially challenging for some businesses.
What Created The Great Resignation?
Experts point to widespread job dissatisfaction as the main driver behind the "Great Resignation." The COVID-19 pandemic gave many people more time to truly contemplate what they wanted from their jobs, how they wanted to spend their time, and the life they wanted for themselves and their families. Others were fed up with low pay and poor treatment. Economic stimulus payments made it possible for some people to save up and wait for the right opportunity so they didn't have to settle.
As an employer, the Great Resignation doesn't have to make it more difficult to create or maintain your dream team. Here are the keys that will enable you to thrive through this historic period.
Retaining Top Talent During The Great Resignation
Key #1: Great Benefits
Companies that offer robust benefits packages see higher retention, greater satisfaction, and better outcomes. Today's employees want to be seen as people with a world outside work and benefits that reflect that reality.
Retirement plans, health savings account, wellness and mental health benefits, flexible and remote work options, top the list of most desired benefits for American workers.
Another crucial benefit? Workers' compensation coverage. Workers' compensation benefits employees who get injured or sick from work-related causes so that they and your business are not exposed to unnecessary risk.
Key #2: Flexibility
Over the last two years, employees are rediscovering the satisfaction of flexibility as they search for ways to fit their work schedules around their family life. According to "State of America," a recent survey by Grant Thornton, of 1,584 full-time workers, a full half said they would give up a salary increase for more flexibility.
Key #3 Opportunities For Growth
According to research, 50 percent of employees believe lack of growth is a good reason to leave a company. There are numerous ways to show you are committed to your team's growth, including educational stipends for new skills or certifications.
HR managers should work with employees to develop their futures. Listening to them will allow you to understand their needs and desires, so you can help them realize their goals within the company.
Recruiting Top Talent During The Great Resignation
Key #1: Flexibility Benefits Your Company, Too!
When recruiting for new roles or open positions on your team, enhanced flexibility can elevate your business over the competition in a crowded hiring market.
Key #2: Be Open To Less Experienced Candidates
While they might have fewer years under their belt, a less experienced candidate might also have other positive attributes, such as an ability to fulfill a future need for your company. A less seasoned employee might also be more amenable to coaching and training and better able to learn new skills. Ultimately, these candidates could provide a much higher payoff for your business.
Key #3: Look Beyond The Resumé
Looking for the perfect candidate? Yes, what you see on paper is important, but other more intangibles may be just as crucial. In an ever-evolving field such as marketing, the candidate you hire might fulfill an entirely different role only one year from now! Characteristics such as a passion for the field, enthusiasm for the company, an ability to fit with company culture, and even their potential to move your business forward may be almost as important as the resumé.
SPLI – The Partner Ensuring You Thrive Through The "Great Resignation"
Agile business owners don't try to do it all themselves. Hiring experts frees up internal resources and allows your team the time and space to do what they were hired to do, including attracting and retaining the best talent!
PEOs help remove the burden of tasks such as administering workers' compensation coverage, payroll administration, and managing a complete suite of employee benefits from 401(k) to health insurance to a prescription discount program to help you recruit and keep an effective team.
SouthEast Personnel Leasing is your trusted partner that offers expertise in four major areas of administration:
When each of these areas is facilitated for you by a team of experts, you can focus on building your business to ensure your resilience through this challenging employment climate.