6 Misconceptions Of Partnering With A PEO
March 2, 2022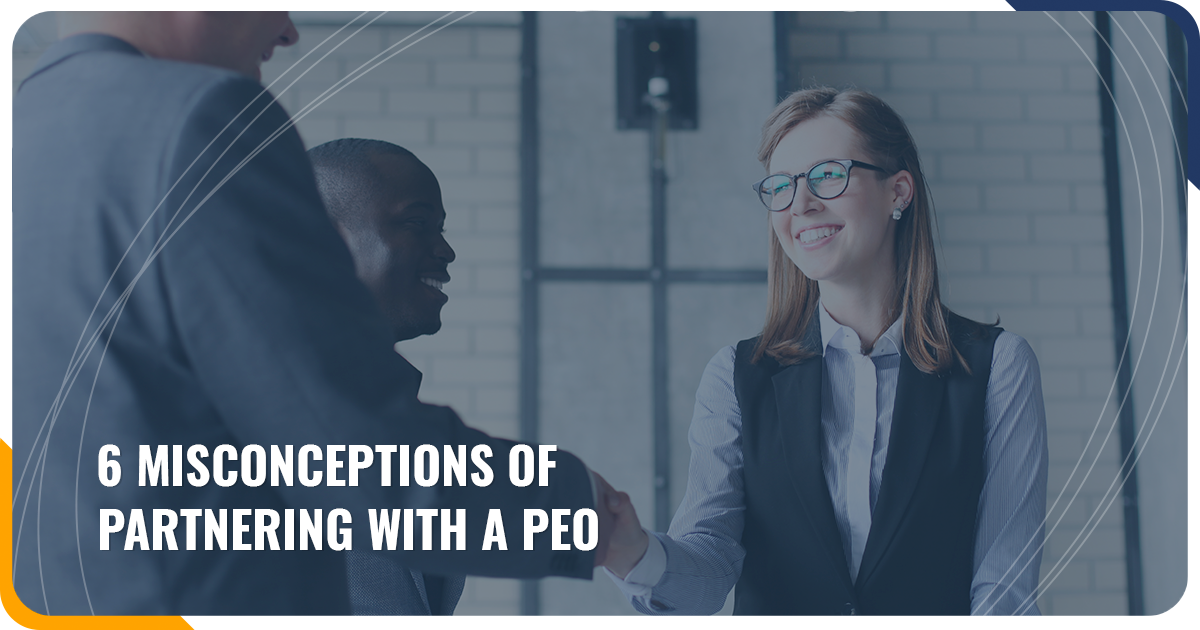 TABLE OF CONTENTS
When your business expands or your team grows, it's natural to feel torn between competing responsibilities. Sales and marketing drive new conversations. Then, there's meeting with customers and clients, drafting proposals and quotes, and finally – actually doing the work.
These areas are valuable, but there's simply only so much time in the day. PEOs (or professional employer organizations) exist to help alleviate some of this tension for business owners by taking on core administrative functions that put you back in the driver's seat of your day.
If you've never partnered with a PEO or only have limited knowledge of how they operate, you may be understandably cautious. You've worked hard to create a business you love, and the wrong partnership or decision could have many ripple effects. That's why we wrote this article – to tackle some of the most common misconceptions about partnering with a professional employer organization. By addressing these six areas, we hope it will empower you to move forward with confidence.
PEOs Offer A variety of services
A PEO is an expert, strategic partner for businesses needing core administrative support. PEOs can manage workers' compensation coverage and payroll, mitigate risk to keep your business compliant, and design customized benefits packages that retain and attract top talent.
Understanding What PEOs Do And Don't Do
We will cover this in greater detail during the first misconception, but it's important right out of the gate to address one point. PEOs are in the business of serving you, not controlling you. Take our suites of services, for example. Benefits, risk management, workers' compensation coverage, and payroll services are designed to give you more freedom to focus on your strategic priorities.
Put simply: PEOs keep you in the driver's seat, not the back seat. A PEO's role is to take over administrative tasks so you can spend more time focusing on your strengths and those crucial operations that allow your business to flourish.
Common Misconceptions Of Partnering With A PEO
Misconception #1: A PEO Will Take Control Of My Business
A PEO's role is to help relieve your administrative burdens so your business runs more smoothly, never take control of your operation. A PEO partner takes on responsibilities such as facilitating employment-related tax preparation and administering workers' compensation claims.
In fact, taking on these administrative tasks allows you to focus on the most important activities that only you can do. You will always decide who to hire, how to set wages, and when to develop your employees through training and mentoring.
Misconception #2: I Can't Afford PEO Services
It's a common misunderstanding that PEOs are too expensive for your size business. The right professional employer partner can save you money. According to a conservative estimate based on research by the National Association of Professional Employer Organizations, PEO clients save 21 percent on administration costs, although for the typical PEO client, the savings are likely to be many times greater than this.
In terms of profit, from 2015 to 2016, businesses that partnered with PEOs saw median revenue growth twice that of comparable companies that did not partner with PEOs.
Misconception #3: My Business Is Too Large For A PEO
As your company grows, it will likely become more and more time-consuming for you and your team to undertake administrative tasks, such as staying up to date on new payroll regulations at the state and federal levels. PEOs stay apprised of these regulations, so your team doesn't have to.
In addition, the more employees you have, the greater the chance of compliance errors. A PEO can take on that risk for you, helping you avoid stress and thousands of dollars in fines that can result from non-compliance.
Misconception #4: My Business Is Too Small For A PEO
PEOs work with and provide exceptional benefits to any size company, including small ones. Consequently, the average business that works with a NAPEO member company only has 19 employees!
Among small business owners' concerns are tax compliance and healthcare benefits, two administrative tasks that PEOs can handle for you. Furthermore, small businesses that partner with PEOs grow faster, have lower employee turnover rates, and are more likely to survive than comparable small businesses.
Misconception #5: A PEO Will Take Over My Company's Hiring Decisions
PEOs are not designed to replace you or your staff. You have complete control of all hiring decisions. It's important that you retain the ability to craft your culture and shape the future of your staff.
In today's competitive labor market, it is more difficult than ever to attract and retain top talent. By facilitating administrative tasks, a PEO enables you to spend more time recruiting and employing the right people, the backbone of your business.
Misconception #6: All PEOs Are The Same
While many PEOs offer similar services, there are important differences to review. When choosing a PEO partner, seek a company that provides fiscally sound solutions, exceptional customer service, has the right credentials, and goes above and beyond expectations.
Start with their website and online presence, then have a conversation with their team. Those two experiences typically separate contenders from pretenders.
SPLI – Your Proven PEO Partner To Operate With Confidence
These misconceptions we covered above aren't "thought up." They're derived from conversations with real business owners and executives like you. We outlined and detailed them so that no matter where the market takes you, you know exactly what a PEO will and will not do for you.
SouthEast Personnel Leasing (SPLI) is a Tampa Bay-based PEO that has been advocating for and serving businesses across the United States for more than 35 years. We focus on the core areas every business needs to thrive: workers' compensation coverage, payroll, employee benefits, plus safety and risk management.
We have a vested interest in your success, which is reflected in our efforts to consistently go above and beyond your expectations.
So what's the next step? Glad you asked! You can start by requesting a quote which will put you in touch with our team to get all your pricing questions answered.
Secondly, you can see the benefits of bundling workers' compensation coverage with payroll in this comprehensive infographic.
Interested in seeing the 5 benefits to bundling workers' compensation coverage and payroll administration?