What is Workers' Compensation Coverage?
August 18, 2021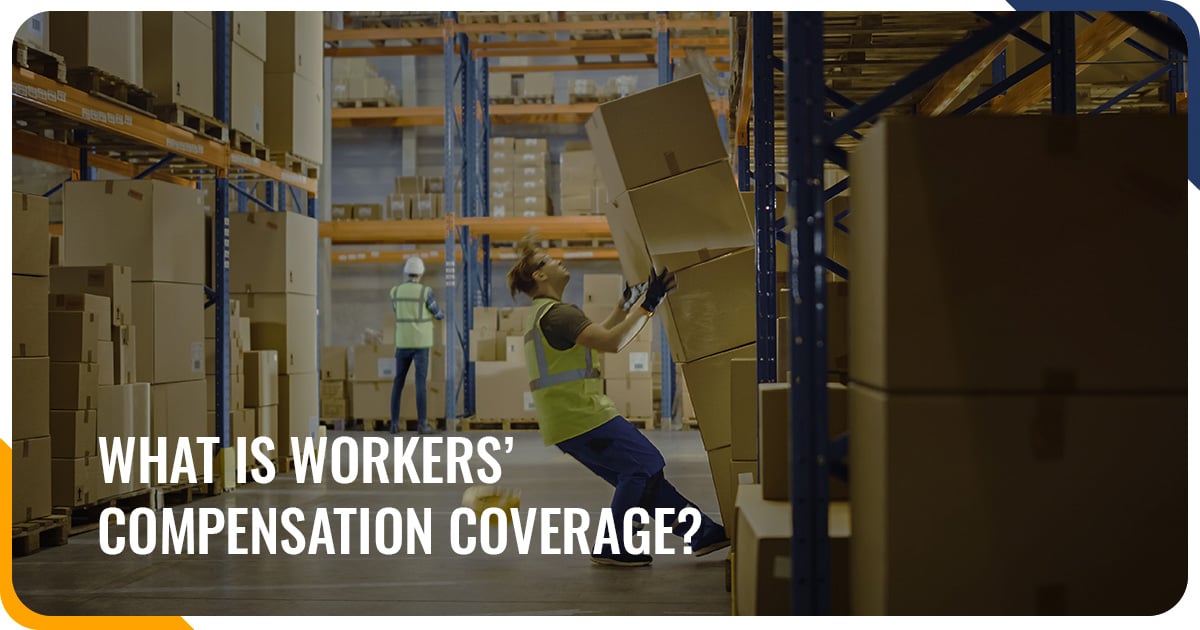 TABLE OF CONTENTS
Being a business owner is a risky proposition. You have likely abandoned a steady paycheck and maybe sacrificed your capital. All the risk and return rests on your shoulders. While those may be sacrifices you have deemed worth making, losing tens of thousands of dollars (or more) due to a catastrophic work injury is not a liability you should have to take on.
A brief definition of workers' compensation coverage
Workers' compensation coverage provides benefits to employees who get injured or sick from a work-related cause so your business is not exposed to unnecessary risk. In the event of an accident in the workplace, workers' compensation coverage will prevent you, as the business owner, from being liable for an employee's medical expenses, lost wages, or the cost of lawsuits. It also ensures you are protecting your valued team members.
Why workers' compensation coverage is so important
Without workers' compensation coverage, neither your business nor your employees are properly protected. If you are a business leader responsible for a team and the long-term sustainability of your company, you must ensure your organization is covered and compliant for the long haul, so that workplace injuries are not a barrier to growth. Your clients and staff count on you to protect them.
Don't leave your company exposed to unnecessary risk. Failing to secure workers' compensation coverage is like walking a tightrope without a safety net.
How do I know if my company needs workers' compensation coverage?
Whether or not your company requires workers' compensation coverage is dependent on the type of business you have and the laws and regulations in your state.
Most states require workers' compensation for any company that has at least one employee, but some states base their coverage laws on the number of employees you have, and circumstances such as if your company is headquartered in one state but employs workers in another.
Confused? An experienced Professional Employer Organization (PEO), a strategic partner for businesses in need of core administrative support, can start a conversation and use its resources and expertise to help you answer those questions so you can make an informed decision about whether your company needs workers' compensation coverage.
Workers' compensation coverage for high-risk businesses
Even though no one wants to think about it, every business comes with risk. But if your business is deemed high-risk, you may be uncertain where to start when it comes to workers' compensation coverage. Your company may be high risk if it is brand-new, has a small number of employees, has not had workers' compensation coverage in the past, has a bad claims history, or is in a high-risk industry, such as natural resources, construction, or maintenance.
If your company is high-risk and you are not able to find an insurance carrier to provide a quote, or if you are shopping for a less expensive option, a trusted PEO partner that has resources, expertise, and covers those risks is a great option. Some PEOs work with carriers that will not only entertain high-risk businesses but can offer very competitive programs.
The repercussions of INadequate workers' compensation coverage
If your state law requires your business to have workers' compensation coverage and you don't have it, you are not only jeopardizing your employees' wellbeing and your company's financial health, but you are breaking the law. The result can be fines and/or jail time.
As a business owner, there's an ever-growing list of competing demands on your time and energy. And even though no one ever wants to jump to worst-case scenarios, there are some areas that companies simply cannot afford to neglect.
Workers' compensation coverage happens to be one of them. Whether it's the mindset of "It won't happen to me," or you're simply too busy, we have worked with far too many leaders who previously had an accident take place without the proper coverage and were devastated as a result. The time, money, resources, and effort required to take care of their employee and make things right was a painful education on the importance of proper coverage.
obtaining workers' compensation coverage
Rather than struggling to search for and secure the appropriate protection for your business, a PEO can serve as a trusted partner providing the best option for your business.
When partnering with a PEO, your business still retains worksite employer status and is responsible for hiring, firing, and managing employees, while the PEO handles administrative tasks such as claims, payroll and tax filings.
For more than 35 years, SouthEast Personnel Leasing Inc. (SPLI), a professional employer organization, has partnered with business leaders to provide both workers' compensation coverage and payroll administration. When you partner with SPLI, you join forces with a team vested in your success.
Our extensive experience allows us to provide you with the tools and knowledge to help reduce the impact of workplace injuries, control claim costs, fight fraud and abuse, and, most importantly, improve your bottom line! And if there is a claim? You will have the peace of mind to know that we will work in tandem with the insurance carrier and the claims management company to provide you the best service possible.
Arena Staffing, an Ontario, California, company that works primarily with construction industry employees, has realized the benefits of working with SPLI. The partnership allows Arena's management to focus on the day-to-day running of the company rather than on risk mitigation.
"We have appreciated not only the savings SPLI has provided us but also their no-nonsense approach when fighting fraudulent claims here in California," said Dave Kooiman, president of arena staffing. "Having a partner allows us to keep our focus on recruiting, rather than becoming a full-time risk mitigation company! We prefer to stick to staffing, and that's why we partner with SPLI."


— Dave Kooiman, Arena Staffing
SPLI–the partner you need for workers' compensation coverage
We have built our business on supporting leaders just like you with workers' compensation coverage. If you're ready to relieve the burden of time-consuming and complex administrative tasks so you can refocus your energy on what you do best, requesting a quote all starts with one click.