Do I Need Workers' Compensation Insurance?
February 6, 2023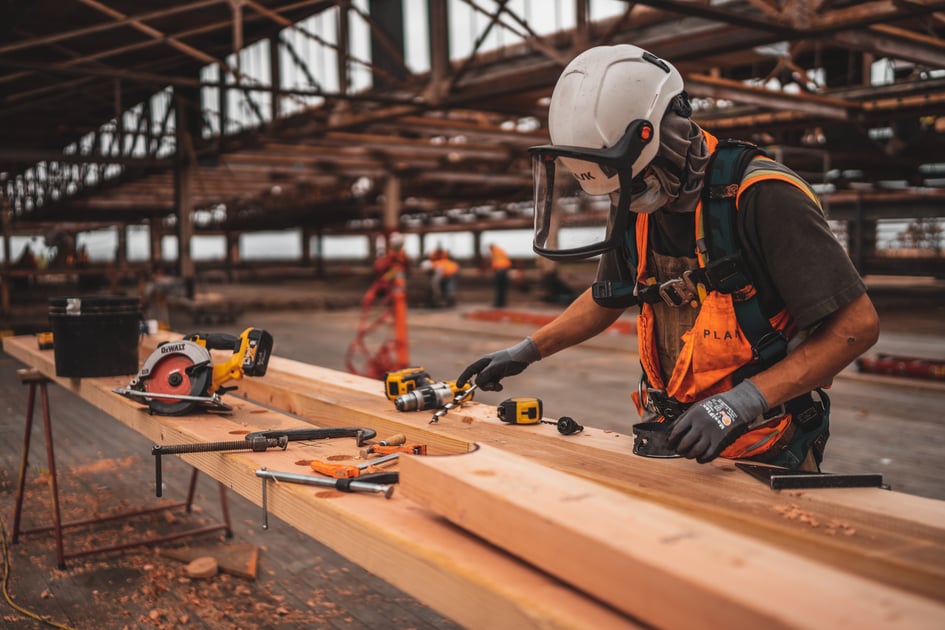 If you own a construction business, especially during these times of supply-chain shortages and high material costs, then you may be looking for some creative ways to save money while still delivering the quality work your clients expect. The last thing you want to think about is spending more money on something you hope you don't need to use, like workers' compensation insurance.
The reality is that all construction businesses (even the smallest of firms with just a few employees) need workers' compensation coverage. Aside from being a legal requirement in many states, this coverage can also protect your business from serious financial hardship.
By having a better understanding of how a workers' compensation policy works and the benefits of carrying insurance for workers' compensation, you can make an informed decision for your growing construction business.
What is Workers' Compensation Insurance in Construction?
Workers' compensation insurance pays for a construction employee's expenses related to an on-the-job injury. Working on a construction site can be dangerous, with the United States Bureau of Labor Statistics reporting approximately 150,000 construction site injuries each year.
When these injuries occur, it is not uncommon for employees to sue their employers not just for their medical bills, but their lost wages and more. By having a workers' compensation policy in place, construction employers can limit out-of-pocket costs for covered injury claims. While exact coverage can vary from one policy to the next, many workers' comp insurance policies will pay for medical bills, lost wages, and any other expenses directly related to workplace injury.
Why Do I Need Workers' Comp Insurance for My Construction Business?
While specific laws can vary by state, the reality is that most states require construction businesses of all sizes to carry workers' compensation insurance. This alone should be enough to convince you to secure coverage, as you could face serious fines and other penalties if you're caught running your business without it.
Even if your business operates in a state where commercial workers' compensation insurance is not required, there are still some compelling reasons to purchase a policy regardless.
Protect Your Business Financially
According to the National Safety Council, the average workers' compensation claim in the United States is $40,000. For most construction businesses, being sued for even one on-the-job injury could lead to serious financial hardship. This doesn't even factor in the potential legal costs that your business may also incur in the event of a lawsuit. By having workers' compensation insurance in place, you can protect your bottom line and keep your business growing.
Maintain Your Reputation
Facing a lawsuit as a result of an on-the-job injury doesn't just cost your business a lot of money. It can also cost your business its reputation. If word gets out that your construction business is under litigation for an employee injury, clients and potential clients may question the safety and trustworthiness of your company. Current employees may also suffer from lower morale knowing that one of their own is suing the firm.
With a workers' compensation policy in place, you can avoid these kinds of lawsuits while ensuring that employees are taken care of if they are injured on the job.
Give Yourself and Your Workers Peace of Mind
Perhaps above all else, having workers' compensation insurance for your construction business gives you and your workers valuable peace of mind. With your coverage in place, you can rest assured that your business will be protected from financial hardship if an employee is injured while doing work for your business. This can also make your employees feel more confident in their work and boost their morale/loyalty to your company because they'll see first-hand that their employer cares enough about their well-being to have this insurance in place.
Protect Your Employees and Your Business: Request a Quote Today
Even as your construction company may be looking for ways to cut costs, coverage for workplace injuries is one area you won't want to skimp on. Likewise, you might be surprised at just how affordable securing workers' compensation coverage for your workforce can be.
Southeast Personnel Leasing, Inc. is proud to offer workers' compensation insurance programs designed specifically with construction businesses in mind. Request your free quote today to get started! You can also get in touch with our friendly and knowledgeable team if you have any questions about your quote or the coverage options available.